The ASPCO Board of Directors determines overall policy, and manages the business and affairs of ASPCO. The Board of Directors is elected by its members each January.
---
James Tootle
President
James Tootle is a designer, artist, life-long screen printer, and co-founder of ASPCO. After moving to Austin in 2008, he put an ad on Craigslist to find others who would be in interested in forming a screen printing co-op that shared responsibility, resources and community joy. In his spare times, he builds guitars, runs a web design firm, and rides motorcycles. He is fortunate to have the support of the best board of directors on the planet, and is proud of what they have accomplished as a team of artists and creators. He has a German Shepherd and two cats that kind of get along.
You can find him on insta here.
---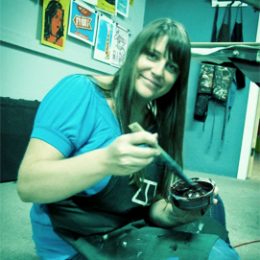 Amanda McInerney
Vice President + Education Chair
Amanda Linn McInerney is a Texas-based visual artist and printmaker. She is one of the co-founders of Artist Screen Printing Cooperative where she teaches screen printing to the public. She graduated from Iowa State University in 2004 and continued her printmaking career in San Diego, California until she moved to Austin in 2010. Inspired by electron microscopy, her work consists of simple compositions to emphasize the organic growth of life and chaotic scenes to display stress and tension. Currently her work is based on mortality and traditional burial practices of Native American tribes.
---
Joanna Gilbreath
Vice President of Facilities + Equipment
Joanna Gilbreath is a screen printer and artist. She has been screen printing since 2013, and became an ASPCO member in 2021. In 2018, she founded Bluebird Tees from her garage in Paris, Texas. She moved to South Austin in 2020, where she lives with her partner, Tyler, and beloved dog, Rocky.
---
Brian Stokes
Historian
Brian Stokes owns and operates Trick Pony Studio, a brand of graphic tees. The line is inspired by iconic, classic tees from the past—with a slight twang that is undeniably Texan. As Board Historian, Brian documents the future of ASPCO. As a long-time member of ASPCO, he lends his understanding of the working of our co-op to assist in guiding the path of ASPCO forward.
---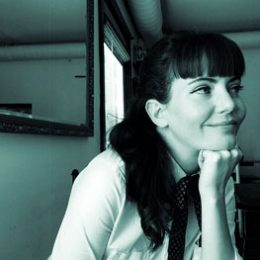 Christine Angelone
Vice President of Membership
Christine Angelone has been with ASPCO since 2014. Christine works as a marketing professional by day and owns and operates POOR GIRL EMPIRE, LLC. with her partner Alexander Bingham by night. She also is an avid writer, illustrator and proud resident of South Austin.
---
Abbey Tootle
Treasurer
Abbey Tootle is a founding member of ASPCO. The Project Management skills she blasts at Apple are put to good use as she helps manage our co-op in ways that are impossible to count. Abbey is a self-proclaimed Excel and Quickbooks nerd, and she makes sure our co-op stays in the black. She is a marathon runner, Rotarian, and all around awesome blossom (extra awesome)! She is our #1 fan and cheerleader, and her efforts are inimitable. Also, her husband James wrote this.
---
Melissa Slaughter
Board Member at Large
Melissa Slaughter has been an ASPCO member since 2014. Melissa graduated with a printmaking degree in 2011 from the University of North Texas, and keeps the dream alive printing primarily on paper. When she's not printing, you can find her daylighting as a librarian. Melissa does not have a podcast.
---