The ASPCO Board of Directors determines overall policy, and manages the business and affairs of ASPCO. The Board of Directors is elected by its members each January.
---
James Tootle
President
James Tootle is a designer, artist, life-long screen printer, and co-founder of ASPCO. After moving to Austin in 2008, he put an ad on Craigslist to find others who would be in interested in forming a screen printing co-op that shared responsibility, resources and community joy. In his spare times, he builds guitars, runs a web design firm, and rides motorcycles. He is fortunate to have the support of the best board of directors on the planet, and is proud of what they have accomplished as a team of artists and creators. He has a German Shepherd and two cats that kind of get along.
---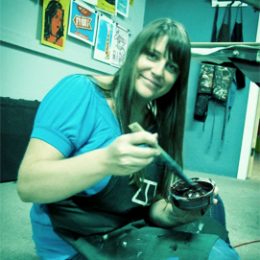 Amanda McInerney
Vice President + Education Chair
Amanda Linn McInerney is a Texas-based visual artist and printmaker. She is one of the co-founders of Artist Screen Printing Cooperative where she teaches screen printing to the public. She graduated from Iowa State University in 2004 and continued her printmaking career in San Diego, California until she moved to Austin in 2010. Inspired by electron microscopy, her work consists of simple compositions to emphasize the organic growth of life and chaotic scenes to display stress and tension. Currently her work is based on mortality and traditional burial practices of Native American tribes.
---
Laura Fisk
Vice President of Facilities + Equipment
Laura Fisk is an illustrator and printmaker working out of Austin, TX. She is the owner of Fisk & Fern, a little paper and household goods company featuring her silly and strange characters. She has been screenprinting for over 10 years, and loves the way her hand drawn goofy style translates to layers of ink. She joined ASPCO in 2011 when she and her husband moved to Austin, and couldn't imagine a better place to print or a better artist community to be a part of. As Vice President of Facilities and Equipment at ASPCO, she helps maintain smooth operation of, you guessed it—our top-notch facilities and equipment!
---
Kevin Abeyta
Vice President of Events and Promotions
Kevin Abeyta is an elementary art school teacher, maker and photographer. His love of golden age hip-hop, old school punk and classic country & western music is a real plus on road trips which he loves to take frequently in the great state of Texas. This love of travel and going on new adventures inspires his art which incorporates vintage maps, roadside ephemera and imagery of new locales. He has a passion for screenprinting and has taught the process to his elementary age students, in urban community outreach programs and as a professional instructor. He strives to build bridges into the Austin area art community and feels that ASPCO is a pretty darn fine place to make that happen. Kevin is the owner of The Ol' 300, a very tiny, like it's just him, print shop that produces hand made durable screenprinted good for fun and profit. 
---
Emily Cano
Secretary
Emily has been an artist since she was the golden age of four. After winning a Smokey The Bear coloring contest, she knew that art would be a part of her life in some capacity. She fell in love with screen printing while taking a class in college. That love grew into a desire to learn how to perfect her skill and have it play a larger part in her life. Sweet Ink Collective, her company, is based out of Austin,TX and specializes in printed paper and clothing goods. Each piece is designed with a little wit and then hand printed out of ASPCO!
---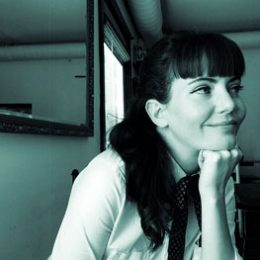 Christine Angelone
Vice President of Membership
Christine Angelone has been with ASPCO since 2014 and is excited to have recently joined the board. Christine works as a marketing professional by day and owns and operates POOR GIRL EMPIRE, LLC. with her partner Alexander Bingham by night. She also is an avid writer, illustrator and proud resident of South Austin.
---
Abbey Tootle
Treasurer
Abbey Tootle is a founding member of ASPCO. The Project Management skills she blasts at Apple are put to good use as she helps manage our co-op in ways that are impossible to count. Abbey is a self-proclaimed Excel and Quickbooks nerd, and she makes sure our co-op stays in the black. She is a marathon runner, Rotarian, and all around awesome blossom (extra awesome)! She is our #1 fan and cheerleader, and her efforts are inimitable. Also, her husband James wrote this.
---